Leica Vintage hologram
Vintage Hologram, Golden Leica a laser picture by holography technique produced in Sweden!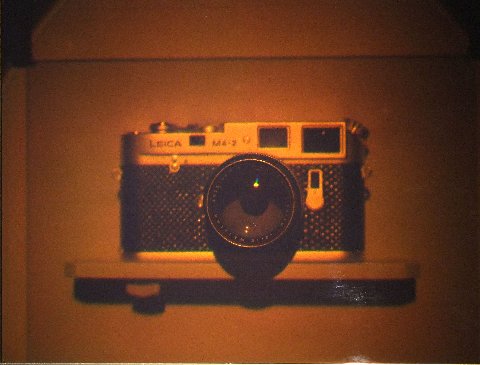 Hologram Leica from 1981. Lasergruppen Holovision AB Sweden, made a Denisyuk reflection hologram of the 1979 Golden Leica. Silver halide emulsion on glass. Framed, size: 8" x 10" (20 x 25 cm). Holographer Hans Bjelkhagen and Per Skande.
LEICA M4-2 GOLD EDITION bild saknas
Leica made in 1979, 1000 pieces of 24 carat gold plated M4-2's with a matching 50/1.4 Summilux lens which were made to commemorate Oskar Barnack's birth in 1879, the inventor of the Leica camera. They are engraved with copy Oskar's signature and 1879 – 1979. Photos Hans Bjelkhagen. Do you want more information?