REAL Hologram

Laser

Technique
REAL Hologram Laser Technique is created by an interference pattern between Laser light beams. Most of the fake "hologram" products are using a 2D projection technique which is a modernized old illusion technique called Peppers Ghost.
LASER Artist Carl Fredrik Reuterswärd Photographer Hans Hammarsköld 
Read at Wikipedia that REAL Hologram needs LASER click  here https://en.wikipedia.org/wiki/Holography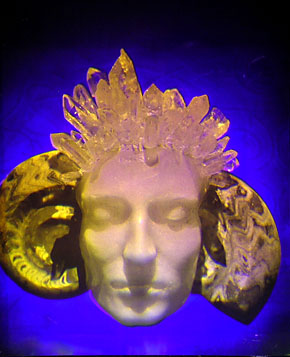 Crystal Dreams reflection hologram 27×34 cm, limited edition, is a REAL Hologram produced with the Nobelprized Laser technique Holography. 
See below some of all 2D projections with an animated film, type Peppers Ghost is NOT a hologram. Read more at Wikipedia https://en.wikipedia.org/wiki/Pepper%27s_ghost 
Type Peppers Ghost 2D projection is NOT a hologram Photo CNet
Type Peppers Ghost 2D projection is NOT a hologram Photo Amazon
Type Peppers Ghost 2D projection is NOT a hologram Photo Dreamoc
Type Peppers Ghost 2D Projection is NOT a hologram Photo AHRT Media