Marketing Holography via Exhibitions
The Nordic Advertising Market in Stockholm
Yearly event for HoloMedia was a great success
We had to market the innovation Holography by exposing the new media, 3Dimensional pictures, Holograms via different exhibitions for wholesalers, distributors and tourists. No photo technique could give justice (still not)  to the depth nor the full parallax in these 3Dimensional laser-pictures. Hundreds of Hologram Exhibitions led to many customers for HoloMedia AB, some of them here Referenser-Företag
The light source for display holograms was no big deal
Partly thanks to IKEA! The launching of halogen spotlights for homes was a success not only for them but for us. The private buyers of a framed hologram already had the light source. To others we included the spotlight or specially produced for some of the companies above!
IKEA sponsored us at the World Trade Center with their smart halogen spotlights for the 30 Art Holograms
Hologram Exhibition 30 Art Holograms World Trade Center
Hologram Exhibition at World Trade Center Stockholm HoloMedia AB Mona Forsberg docx
Frihetsgudinnan & Minerva Hologram
Frihetsgudinnan & Minerva
Frihetsgudinnan & Minerva, en romersk visdoms gudinna som hologram. Minerva är beskyddare av konst och vetenskap men förknippas även med krig.
Minerva blickar ut mot Frihetsgudinnan.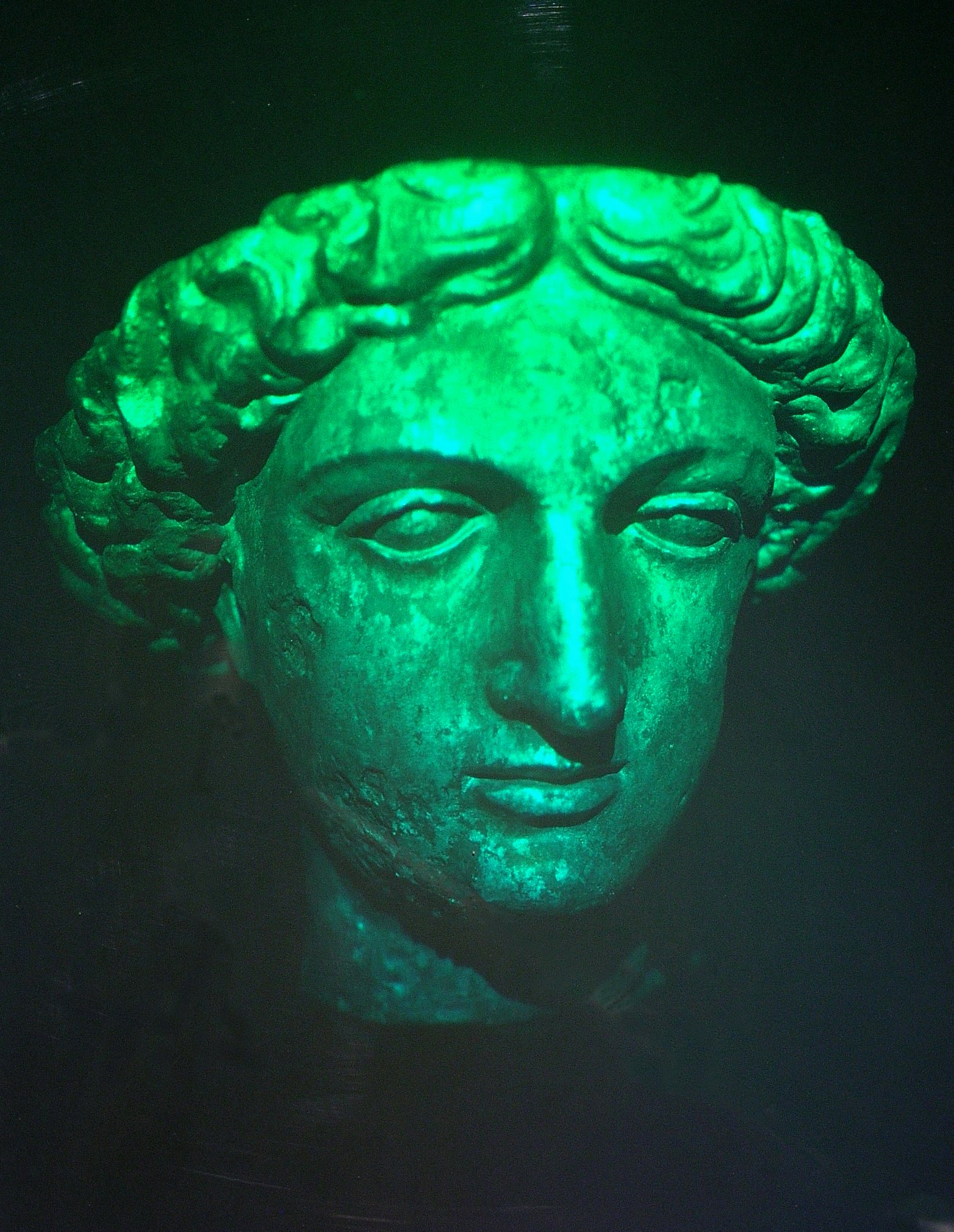 Hologram 30×40 cm med argonlaser (grön laser) av Minervas huvud från 43 f.Kr. som hittades i Bath, England, de antika romarnas badort. På en inskription i Pump Room, Bath kan man läsa: Bad, vin och kvinnor korrumperar kroppen. Men dessa ting utgör själva livet. 
Världens största hologramutställning Light Dimensions, invigdes i Bath den 21 juni 1983 av prinsessan Margaret, Snowdon som förärades hologrammet Minerva producerat av Applied Holographics, professor Nick Philips och hans team av holografer.
Hologramutställningen Light Dimensions arrangerades av Eve Ritscher Associates i London, på The National Centre of Photography, Bath. Den välorganiserade utställningen med hologram-utställare från hela världen och lunch med kunglighet, flyttade i december till The Science Museum i London. Där fortsatte den att dra jättepublik till maj 1984. Minns hur köerna slingrade sig kvarteret runt museet.
Frihetsgudinnan, the Statue of Liberty, präglat hologram, foliehologram av American Banknote Company. Vid ett av deras besök på Hologram Museum/Gallery, Drottninggatan i Stockholm, lärde vi oss säkerhet vid kortbetalning.
På den tiden fanns en karbonkopia från betalningsslippen som ofta hamnade i askkoppen. Det nya betalsättet med kontokort hade redan drabbats av förfalskningar, man präglade kort med hjälp av karbonpapperet till exempel!  Förfalskarna försökte även limma in ett kommersiellt foliehologram på plastkortet. Foto Mona Forsberg
American Banknote Company började i mitten av 80-talet att förse kontokort med hologram. Vi hade glädjen att få vara lite delaktiga via agentavtal med Cablebook Ltd/Amblehurst Ltd och senare De La Rue Holographics, som köpte  företagen. Företagen producerade hologram åt American Banknote Company samtidigt som De La Rue Holographics utvecklade en egen hologramdivision. De La Rue är världens största värdetryckeri.

Frihetsgudinnan användes flitigt vid hologram på plastkort och trycksaker, som vi förmedlade i Norden. Här ett 12 cm högt hologram i samband med Frihetsgudinnans 100 årsjubileum 1886 – 1986. Foto Mona Forsberg