The Ryder Cup
The Ryder Cup £5 Note – Two Holes in One
To mark the 40th anniversary of the Ryder Cup and its return to Scotland in over 40 years, a new commemorative banknote has been issued. Ryder Cup Europe and The Royal Bank of Scotland (RBS) announced the first ever commemorative Ryder Cup banknote in June 2014 well ahead of the prestigious golf tournament which was  held September 23 –  28 at Gleneagles in Pertshire.
The new note includes a number of features not previously seen on any European banknote. Currency News information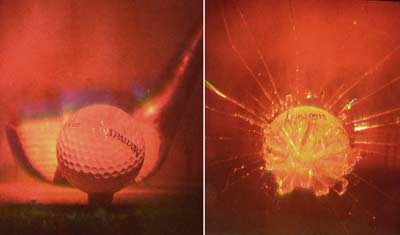 Hologram GOLF double exposed reflection hologram on film, here seen from different angles
Artist, holographer Adrian Lines developed a very popular hologram, Flying 3D, size 20×25 cm with 40×50 cm frame. The Swedish Insurance Company Trygg Hansa bought many Flying 3D as sponsors for golf tournaments.
After Adrian Lines death other artists where inspired by his humor playing with the holographic room and Golf is one of these new generation golf holograms. We have only one Golf left, SEK 550 framed 24×30 cm.